The Rifle and Pistol Club promotes the shooting sports by providing the following opportunities for our members.
Club sponsored shoots for rifle, pistol and shotgun. All our events take place off of the laboratory grounds.
We maintain an inventory of shooting supplies and accessories available for loan to the members.
We maintain three email reflector lists that permit members to communicate with each other on the various aspects of the sport.
We have many NRA Certified Instructors within the club to provide training to the members.
We have a club affiliation with CMP that allows club members benefits to the CMP store.
The club welcomes all lab employees or those eligible to be BERA members to join the club. 
See the link here to access our membership application. For club information please contact the prez.  Joe Moskowitz  
Meetings are held virtually @ noon on the 3rd Thursday of the month.

– All are welcome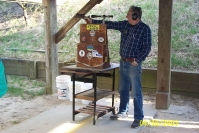 Special note – As of 12/30/2004 our 50 year tradition of bringing firearms on-site for use at the BNL ranges has been cancelled due to changing times. Absolutely NO firearms may be brought on-site.